HALL OF FAME PLAYERS
---
Key Figures
---
This site is dedicated to the Rock Island Independents and the men who came together to take the team from a small neighborhood in Rock Island, Illinois all the way to the National Football League.
The first mention of the team was by the Rock Island Argus on October 13th, 1902. The Argus reported that the Independents had defeated the Standards of Davenport by a score of 6-0. The Independents played their first documented full season in 1907 and by 1919 they were one of the elite football teams in the nation. In 1919, the Independents went 9-1-1 outscoring their opponents 309 to 12.
In 1920, Walter Flanigan joined George Halas in Canton Ohio and entered the Independents into the newly formed American Professional Football Association.
The Independents went on to produce four Hall of Fame members, and will always be remembered for being one of the NFL's charter members.
READ ALL ABOUT IT, in this website designed to read like a newspaper from 1907-1925. Enjoy!!!
CLICK TO ENTER
---
2015 VINTAGE AMERICAN FOOTBALL GAME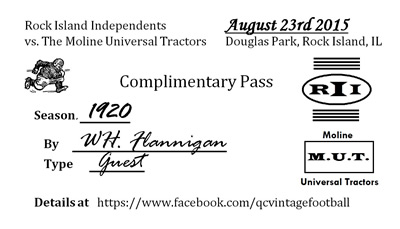 Click the Promo Card to goto the event page
Items of Interest
---
Player Spotlight
---
Top Research Sites
---