Frederick Slater, born in Normal Illinois in 1898 son of George Slater, a Methodist minister. Duke had 4 sisters and a brother. His mother passed away when he was 11. When Duke was 13 his father remarried and took a job in Clinton Iowa as a pastor of a Methodist Church. Stories say that George would not allow Duke to go out for football for fear he would get hurt. Duke went ahead and signed up for football and his father found out when he say his new wife sewing Duke's uniform. George again forbid his son from playing football. Duke went on a hunger strike and his father finally gave in. Later, George would become Duke's biggest fan.
The Slater family was not rich and since players provided their own equipment, not able to afford both, Duke chose to play with shoes instead of a helmet during high school. The shoes he wore had to be special ordered from Chicago since he feet were so big. In 1914 Duke led Clinton to the Iowa state championship game. The gane against West Des Moines ended in a 13-13 tie.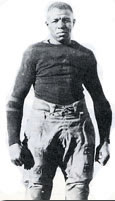 Iowa Hawkeyes -In 1918, Slater played and lettered at Iowa as a freshman and was selected to the all-Iowa team.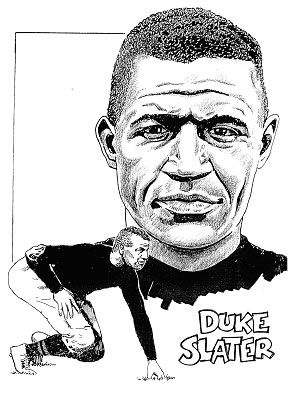 Drawing of Duke Slater - By Bob Carroll of the PFRA.
Bob sent his drawing to the Rock Island Independents Collection in 2007