What is Vintage American Football?
Just as it sounds. This website and the game we created pays tribute to Vintage American Football. This focus is on the equipment and rules used in American football from roughly 1912 - 1925. The melon football is key to this time period as rules in 1912 allowed for a more open game with passing yet the ball was still large and somewhat hard to throw.
Purpose of this Website
1. To bring together those who love American Football (past and present) and allow them to learn about and play the game as it was played during the melon football era.
2. To provide easy access to replica football equipment and merchandise from the melon football era.
3. To assist, support and track all Vintage American Football teams who play by our recommended rules and use our recommended equipment.
4. To provide easy access to the history of American pro football equipment and rules as it relates to the melon football era through articles and links.
Purpose of our Vintage Games
*To entertain and educate the community by playing a game that (from their perspective) has the look and feel of a 1920s game.
*To create a game that from the players' standpoint is safe, challenging and fun but requires the use of some of the same rules and strategies used in 1920's football games.
Vintage Referee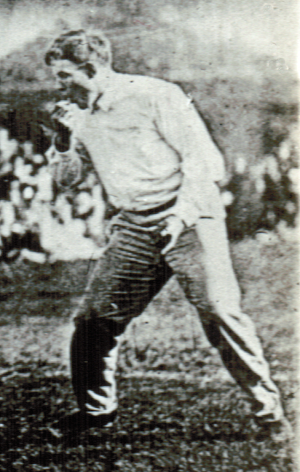 Estimated 1920 - Seen here wearing a long sleeved white shirt, tan pants with a black belt and dark shoes. He is also carrying a whistle, most likely an ACME Thunderer or something similar.