Rock Island Argus - Photo of Sies with Pitt in 1916
"Dale Sies was an All-America guard in 1917. He was one of the finest athletes on the Pitt squad and was also known as a fierce defender. After spending some time in the armed forces he returned to football and became an NFL quarterback. He spent five years in the NFL playing for the Cleveland Tigers, Dayton Triangles, Rock Island Independents and the Kenosha Maroons." University of Pittsburgh Website
Sies was a high school star in Davenport Iowa. In 1912 Herb played for St.Ambrose University and was also seen playing for the Davenport Independents (Argus Oct. 28th, 1912) and the Moline Olympics (Argus Nov. 25th, 1912)

Dale Herb Sies played for the Pittsburgh Panthers from 1915-1917. Under Coach Pop Warner, Sies played guard and was a crucial part of the teams success. In the years Sies was a starter for Pitt they went, 8-0, 8-0, and 10-0 and claimed the national championship in 1915 and 1916.
In 1919 Herb stated off the season coaching the Davenport Athletic Club under manager Albert Wolters
In 1920 Sies played for the Cleveland Tigers. From 1921-1922 he played for the Dayton Triangles. In 1923 Herb was the coach of the Rock Island Independents. In 1924 he returned to the Triangles.
Many thanks for the Family of Herb Sies for the Information.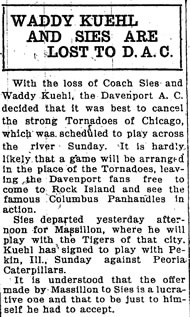 Rock Island Argus November 20th, 1919