Harry "Red" Swanson
Arvid Harold "Red" Swanson
Position: RT
Height: ' '' Weight: 185
Born: 8/31/1890, Moline, IL, USA
High School: Moline (Assumed)
College:
RII: 1912,1913, 1914, 1915, 1916, 1919
"Red" Swanson played football between the years of 1907- 1919. Swanson had a remarkable career. He only played in one losing game ever. Red played for the Moline West Ends in 1907-1910 until they disbanded. In 1911 he was seen with the Illini eleven of Moline. In 1912 and 13 he played for the Independents. Through 1914 he was a member of 3 state championship teams; in 1909 with the Moline West Ends and in 1912 and 1913 with the Independents. In those years Red only stood under his own goal post 4 times.Red injured his back in the 1913 season in the Independents game vs Peoria and announced his retirement when he could not get back into playing health. The retirement didn't last long, he played most of the 1914 season with the Independents and was seen playing for Rock Island in games as late as 1919.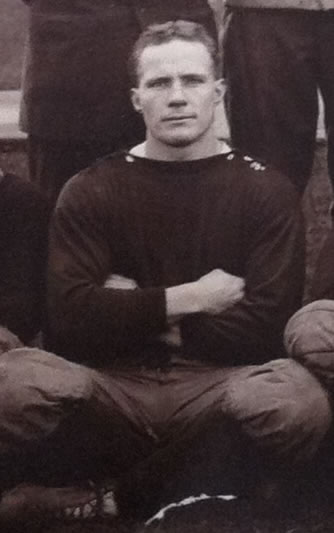 Crop from 1913 Photo - Provided by Swanson Family